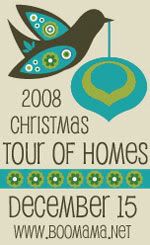 Hey everyone!  I have every intention of participating in BooMama's Christmas Tour of Homes today, but I'm afraid you're going to have to come back later.
I'm dying to tell you why.
Today was the girls' school concert.  Now you may remember that we are a one vehicle family, so if I want to attend the concert, I need to first drive Hubby into the city for work and then drive back to our village.  This trip takes about 45 minutes one way, so just getting the car takes a big chunk of time. 
Only Hubby had training to lead today.  Training that started at 7:45AM, about 15 minutes before the girls would get on the bus.  So we all needed to get up extra super early to take Daddy to work and come quickly back and take the girls to school.  There was no way I was going to make it on time, so I called the school last night and left a message explaining what was happening and that they'd be just a smidgen late this morning.
Then it was this morning.
The alarm did not go off. 
We have had power fluctuations with all of the weather lately.  The alarm was carefully and correctly set and turned on.  The time, as it turns out, was not studied as closely and was actually off by, oh, let's say 12 hours.
We woke up at 7:30.
You can imagine the panic.
Hubby called in to make arrangements with someone else to stall (all the training materials for today?  In our trunk.)  We ran around like maniacs and were out the door by 8:10.  We zipped to the school and dropped the girls off (where it was discovered that Sweetpea had forgotten her backpack).  As we drove away, I thought about how we didn't actually run into any buses in the parking lot.  Must be later than I thought! 
15 minutes away, we heard the road reports.  Apparently the roads were like skating rinks and all buses were delayed by TWO HOURS this morning. 
Our girls were not late, they were abominably early. (Don't panic, someone was there to watch them, I saw a teacher I know enter the school just ahead of them.)
So we kept driving (carefully).  We got Hubby to work.  The Boy and I went home to get the forgotten backpack, then went to the school early, because we know from experience that parking can be insane.  The Boy ate his snack.  Then he got bored.  We played in the Kindergarten classroom.  Then watched the play (photos to come).
All was well.  Children were cute.  Photos were snapped.  I filled my memory card.
I came home.  I went to upload to the computer.
My hard drive is full.
So is the backup.
Did I mention that it's now 2 PM, the girls will be home in a few minutes, and I haven't eaten yet today?  Oh, and that I had a nice long list of things to accomplish today that doesn't look like it's going to get sneezed at?
So, home tour.  I have some photos, I have others planned.  My house is decorated but 3 kids live here, and I'm going to need to push some toys out of the way before I take those photos.  Oh, and the camera is FULL and I can't take any more photos until I purchase a new hard-drive.
Fortunately, I have to go into the city this afternoon.  Ha ha.
I'll be pushing to get things up before midnight.  In the meantime, why don't you head on over to BooMama's and get started on the tour?  I'll do my thing and sign Mr. Linky, so by the time you get to me on the list, I'll actually have something for you, m'kay?
I haven't even told you about how the Princess's coat (and hat, scarf and mittens) was stolen from the bowling alley on Saturday.
I totally wish I was making this all up.