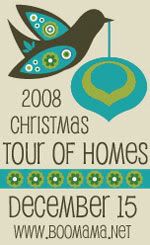 Hello!  Welcome!  Come in and be comfortable!
I hope you've been enjoying the tour so far and that you're ready for a little more Christmas decor.  This is fun, isn't it?  Seeing how everyone decorates? 
We do things really simply over here in the House of Fluff, but we love our traditions and we try to add a little something new every year.  I hope that by the time my children are grown and gone I'll have quite the collection.  I'd better, since my habit of finally getting around to taking the tree down in late January or sometime in February means that by the time I've aged another 10 or 20 years I'm not sure I'll get around to taking it down at all!  We'll just be that Christmas house!
Speaking of the tree, let's start there, shall we?  We still use artificial, as my lazy habits would constitute too much of a fire hazard.  I have dreams of going with my family on a tree farm adventure; riding in a wagon and chopping our own tree, but until I get my act together, pretend will just have to do.
This year we finally upgraded from our old 4' tree that we got when we were newlyweds to a 7.5' tree.  The kids were unsure at first, but now they're in love.  We like it in daylight, but we just love it at night!
Also new this year, I thought it would be fun to hang mittens on our big wall.  Last year we hung Christmas cards, but I wanted to change things up a bit this year, so mittens it was:
I say was because the kids thought it was wierd and tried to get me to take them down.  I resisted until we unpacked the stockings and they insisted that the wall is the rightful home of the stockings.
HUNG WITH CARE, Mama, they cry, HUNG WITH CARE. 
So now it's stockings.
At least until Christmas Eve, when they'll have to come down if they want to be filled.  My poor little embroidery floss clothesline just can't handle FULL stockings.  I think the mittens will go back up.  Next year it would be so fun to have knit stockings to hang, maybe from garland.  Feel free to steal that one for yourself, especially if you're a knitter.  Also feel free to send me some cute stockings you've knit...
Moving on, we have our little advent tree, which is the first thing to get unpacked every year.  This was a gift from my mom my first year away at university and has become a favourite of my children.  Every day you take an ornament from the little drawer until your tree is finally decorated in time for Christmas.  It's also a music box, so you can wind it up and watch the tree dance around.
We have a number of other favourites; from our Santa cookie jar to our snow globe collection, our nativity sets and my dd's Kneaded Angels, but I can tell you're already feeling overwhelmed, so why don't you sit down and read some of our Christmas stories while I fix you a nice big mug of hot chocolate.  You can keep looking around, don't mind me!
I'll leave you with our other Christmas favourite, my great-grandmother's maplecream fudge.  We make several batches up this time of year and gift it to friends and neighbours.  Take some with you to the next stop if you like!
Maplecream Fudge
In a small pan, melt 1/2 a cup of butter.  Stir in 1 cup of brown sugar over medium heat.  Boil and stir 2 minutes, stirring constantly.  Add 1/4 cup of milk slowly and bring to a boil again.  Set off heat to cool down.  Add 2 cups of sifted icing sugar and 1/2 cup nuts (walnuts or pecans) if you like.  Put in a buttered 9X9 pan and allow to cool.  Cut into small squares and enjoy!
Merry Christmas from our home to yours!  May your hearts and lives be full of peace, love and the joy of worshipping Him.